Car pool at home
Three households, families, car owners, in a tenant association are offered to jointly test and evaluate an electric car in a common pool in a shared garage with a parking space equipped with electric car charger for a period of three months. Totally free.
Test period: three months
Prerequisites
That any of you has a regular fossil-driven car with parking space in the garage and there is an electric car charger in the garage. Hertz offers the opportunity to borrow that car and make it available in the Hertz car pool. The car owner will be financially compensated. Then we set up a Renault Zoe in your garage at a parking space with chargers.
That you have a smartphone where Hertz reservation system is available. (Hertz app for pool management)
We connect the electric car in Hertz reservation system. You install the App, Hertz app, on your mobile. Through it you take care of your electric car. Only three participants in the test can book this car.
In the middle of the test period we will ask questions about the experience of driving, driving and handling an electric car. How you like it. How it is to share / pool an electric car. To charge the electric car so it is always charged when you want to use it.
At the end of the test period, after three months, we will make a joint evaluation. Summarizes the impressions and experiences.
After the end of the test period, you are offered as a test driver to continue to "pool" an electric car. Alternatively, buy your own electric car or return to what was earlier.
What is the cost after the three month test period?
Alternative 1. To continue in the same pool with three participants will cost 1900: – per family (VAT included). Plus, taking over other costs such as electricity consumption, the cost of the garage space, etc. You can end the the agreement with Hertz at any time.
Alt 2. Private lease of Renault Zoe from Bilia. The example below applies to a well-equipped car at a price incl. all for 3789 kr/month and then calculated for 36 months a total of 3000 mil.
Car: 2731 kr
Service: 0 kr
Winter tires: 0 kr
Insurance 259 kr
Battery 799 kr
Total sum: 3789 kr
No cash deposit required.
Order a car, choose color and get a fixed monthly fee for three years, 3000 miles.
Delivery about 3-4 months.
Alternative 3. The housing association creates an electric car pool within the association.
The price is then negotiated directly with Hertz.
Alternative 4. The test ends and the test car is returned.
How much is it?
The entire test period is free for the test drivers. The project also stands for the electricity cost at the parking space. The car owner who may lend his car to Hertz may receive compensation. We can also arrange garage parking for cars / cars that need to leave the garage.
For more information
concerning participation as test driver, conditions etc. contact: Rickard Dahlstrand, rickard.dahlstrand@electricitystockholm.se
Henric Gustafson, henric.gustafson@elbil2020.se
Hammarby Sjöstad 2018
A collaboration between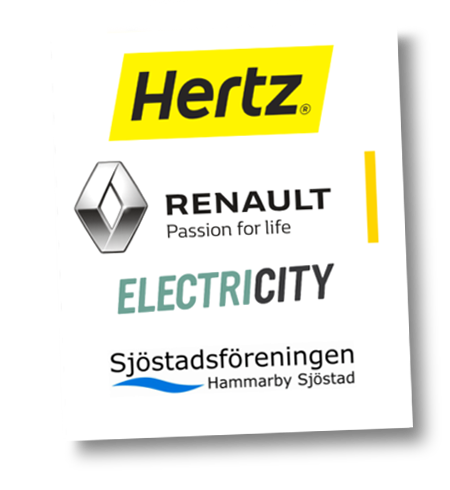 Subject to price changes during the test period